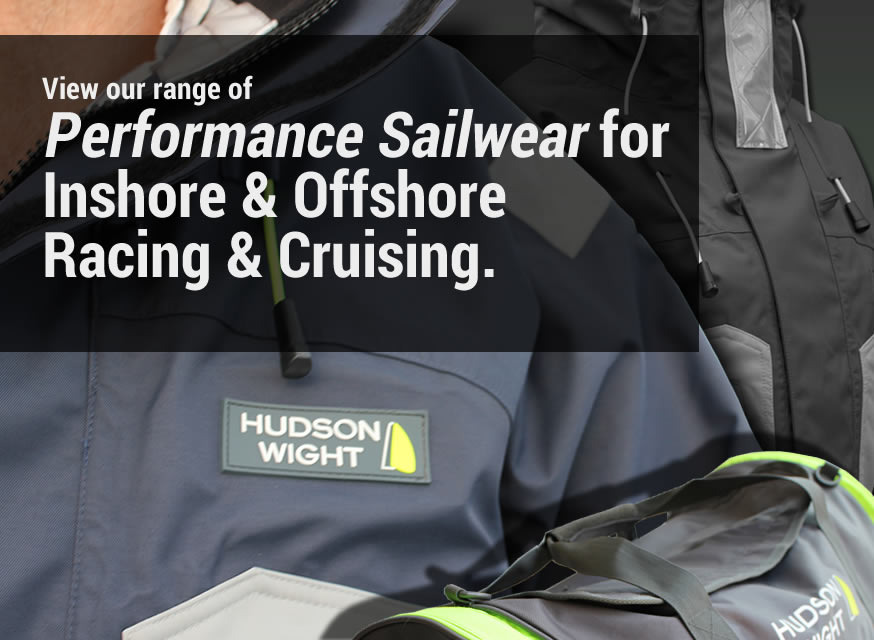 CHALLENGING EXPECTATIONS
Whatever you call your sailing kit, 'oilskins', 'oilies', 'foulies' or just 'wet weather gear', if your sailing jacket and sailing trousers are made with 3-layer fabric technology with no lining and visible seams, they are lighter, keep you drier and breath better, keeping you more comfortable for longer in all conditions. That is why sailing kit made with 3-layer technology is the first choice for professional sailors around the world and why our HW1s are the right choice for all sailors from hardcore offshore racers to occasional coastal cruisers.
We use OceanVent Technical Laminated Fabrics with very high quality hydrophilic, waterproof and breathable membranes, laminated to hard wearing, twill weave, nylon outer layers. OceanVent is supplied exclusively to Hudson Wight and we manufacture high specification sailing clothing with a clear mission to make it available at affordable prices by eliminating unnecessary costs in our supply chain and in our routes to market. This means you really can expect better for less.
We're really proud of the reputation we have already created with many satisfied customers across the world including seasoned offshore racers, long distance cruisers, competitive day racers and family coastal cruisers and their unanimous feedback is that Hudson Wight sailing gear performs better than any other kit they have used previously….. and they love our prices.
Read more about OceanVent Fabrics here, see what others are saying here and, if that doesn't convince you, please don't hesitate to contact us for more information.
Contact
"Just before a two month West Country and Isles of Scilly cruise I decided that my foul weather gear needed replacing. In 53 years of sailing I have used just about every major brand of sailing gear - and generally been disappointed - but I was intrigued by the new Hudson Wight range and their sensible business model, and I liked what I was hearing from users. So I treated myself to an HW1 jacket and HW1 Trousers, a Performance Jacket 2014, an HW Polo shirt, and an HW Micro Fleece. After two months of cruising in generally poor weather with several gales, torrential rain, and cool temperatures prevailing, I am very happy to report that the HW gear performed superbly.
The gear is light, soft and very comfortable to wear but seems hard wearing and still looks like new. Most importantly, it proved very breathable and completely waterproof in, at times, very wet conditions. There is great attention to detail, and areas such as cuffs, zips, pockets, collars and hoods are well executed and comfortable. And the branding is low-key and discrete.
The fleece-lined Performance Jacket is the perfect jacket afloat or ashore and I only needed the added protection of the HW1 jacket when conditions were very wet. The jacket would also be ideal as a mid-layer under the HW1 Jacket when it's really cold.
The HW Polo shirt became a staple as it's rugged but comfortable and dries quickly. As for the HW Micro Fleece, it's simply superb and I wouldn't be without it! And all this at a price of less than half you'd pay for any of the big brands. Thank you HW, it was worth waiting 53 years for!"
Steve Sleight - Author The Complete Sailing Manual
See what others are saying