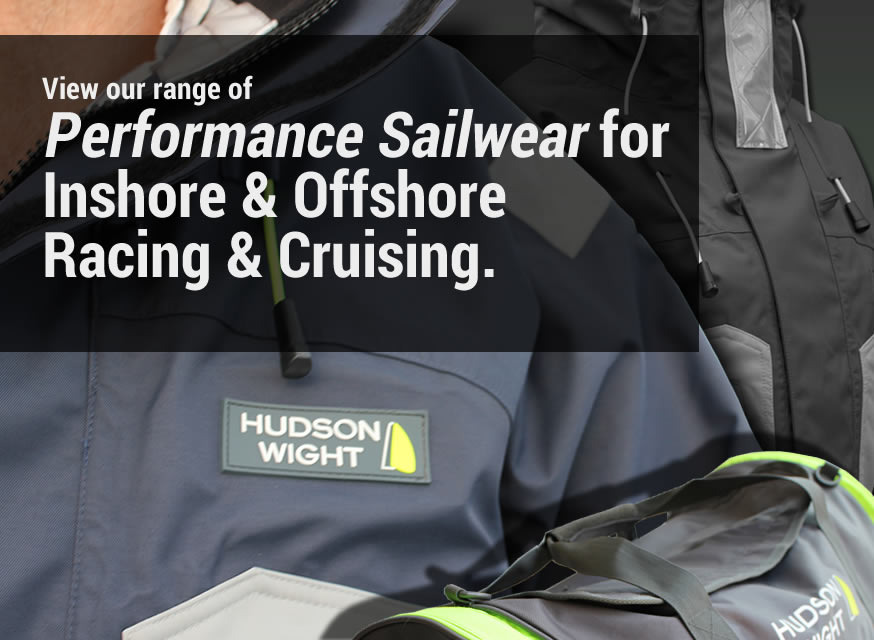 CHALLENGING EXPECTATIONS
Whatever you call your sailing kit, 'oilskins', 'oilies', 'foulies' or just 'wet weather gear', if your sailing jacket and sailing trousers are made with 3-layer fabric technology with no lining and visible seams, they are lighter, keep you drier and breath better, keeping you more comfortable for longer in all conditions. That is why sailing kit made with 3-layer technology is the first choice for professional sailors around the world and why our HW1s are the right choice for all sailors from hardcore offshore racers to occasional coastal cruisers.
We use OceanVent Technical Laminated Fabrics with very high quality hydrophilic, waterproof and breathable membranes, laminated to hard wearing, twill weave, nylon outer layers. OceanVent is supplied exclusively to Hudson Wight and we manufacture high specification sailing clothing with a clear mission to make it available at affordable prices by eliminating unnecessary costs in our supply chain and in our routes to market. This means you really can expect better for less.
We're really proud of the reputation we have already created with many satisfied customers across the world including seasoned offshore racers, long distance cruisers, competitive day racers and family coastal cruisers and their unanimous feedback is that Hudson Wight sailing gear performs better than any other kit they have used previously….. and they love our prices.
Read more about OceanVent Fabrics here, see what others are saying here and, if that doesn't convince you, please don't hesitate to contact us for more information.
Contact
Can we say how pleased we both are with our gear – easy to move around in but smart, dry and warm, ( and the oilies certainly are being tested in this Garmin Hamble Winter series! ). Especially like the pockets, the lack of flaps around the zips so nothing gets stuck although they are fully waterproof and, although one design, more than sufficient adjustments to fit any crew member regardless of sex or shape! Good gear given the quality if priced at the same level of other manufacturers but unbelievable value considering the price differential against other leading brands.

Robbie & Lis Robinson - Hot Rats - IRC
See what others are saying