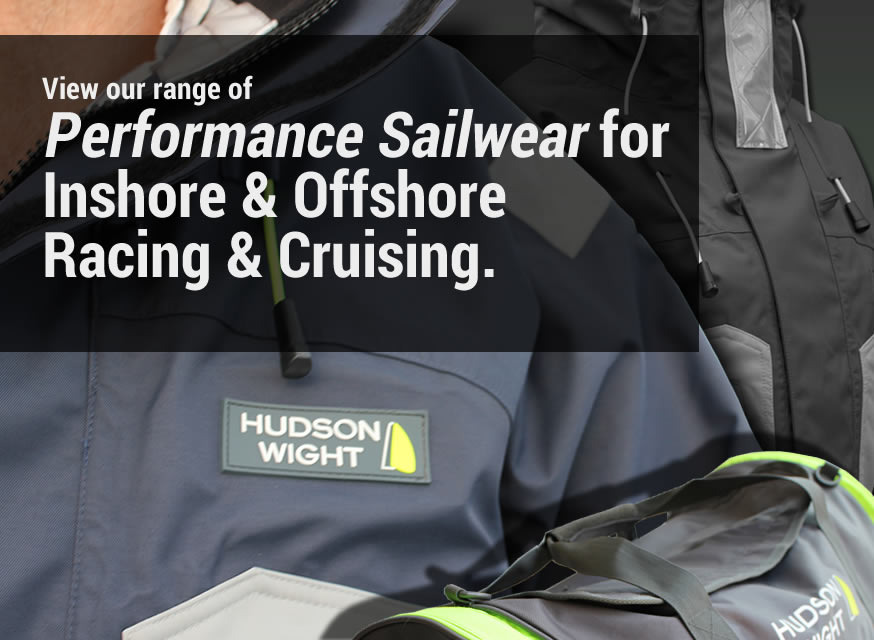 CHALLENGING EXPECTATIONS
Whatever you call your sailing kit, 'oilskins', 'oilies', 'foulies' or just 'wet weather gear', if your sailing jacket and sailing trousers are made with 3-layer fabric technology with no lining and visible seams, they are lighter, keep you drier and breath better, keeping you more comfortable for longer in all conditions. That is why sailing kit made with 3-layer technology is the first choice for professional sailors around the world and why our HW1s are the right choice for all sailors from hardcore offshore racers to occasional coastal cruisers.
We use OceanVent Technical Laminated Fabrics with very high quality hydrophilic, waterproof and breathable membranes, laminated to hard wearing, twill weave, nylon outer layers. OceanVent is supplied exclusively to Hudson Wight and we manufacture high specification sailing clothing with a clear mission to make it available at affordable prices by eliminating unnecessary costs in our supply chain and in our routes to market. This means you really can expect better for less.
We're really proud of the reputation we have already created with many satisfied customers across the world including seasoned offshore racers, long distance cruisers, competitive day racers and family coastal cruisers and their unanimous feedback is that Hudson Wight sailing gear performs better than any other kit they have used previously….. and they love our prices.
Read more about OceanVent Fabrics here, see what others are saying here and, if that doesn't convince you, please don't hesitate to contact us for more information.
Contact
"My existing waterproofs were an ageing set of Inshore kit and a heavy set of Ocean Kit, neither of which are particularly suitable for 2-handed offshore racing. HW 1 JacketI wore this a lot, mainly because it had a 'big jacket' feel but was incredibly light weight. The fleece lining and high collar gave good protection and warmth, but could easily fold down when not needed. I'm afraid the HW1 Jacket was so good, I didn't want to take it off to even try the Smock! I promise I'll feedback on this in due course. HW1 Trousers These kept me nice and dry which is the main thing that I look for! The fit is quite snug, something which I didn't like at first, but grew to find to be a good thing. I thought they might be a bit restrictive to movement, but this was not the case."
Ash Harris, Rolex Fastnet Race, August 2015
See what others are saying